As all borders are still closed due to the COVID-19 restriction and there is no other way to get the van and the BMW out of Thailand, we decided to ship to Europe.
I requested some quotes for RoRo (Roll-on- Roll-off), Open-Top Container, Flatrack, and highcube Container shipping from companies in Thailand and Europe.
In the end, we decided on the 40ft highcube container, because it was the cheapest and safest option. We decided for Best Global Logistics, which was recommended by our overlander-friends Roderick and Marleen.
Here is their story: https://www.bestgloballogistics.com/bringing-dutch-camper-van-home/
I heard some horror stories of Ro-Ro shipping, where half of the belongings were damaged or stolen. The open-top and flat rack container seem a good option, but it was more expensive and the vehicles are more exposed to the weather and (salty) water.


Plywood Wheels
The only problem with the Highcube container is the height of the Mercedes Sprinter.
The door to the container is 258cm high, whereas the Sprinter is 272cm (already without LED bar, solar panels and Fiamma awning).
So I had to lower the van and make smaller wheels. I bought some plywood in a small shop on Koh Chang, cut it with my jigsaw, drilled holes, and mounted it on the van.
The first test on our beach on Koh Chang failed – the wood broke under the weight of the van. So I bought another plywood and glued it together.
FAQ
• Costs for Highcube Container + port fees + customs fees: 3500EUR
• Shipping Agency: Best Global Logistics
• Duration of shipping: about 4 weeks
• Wheels are self-made, out of plywood
• Diameter of the wheels: 36cm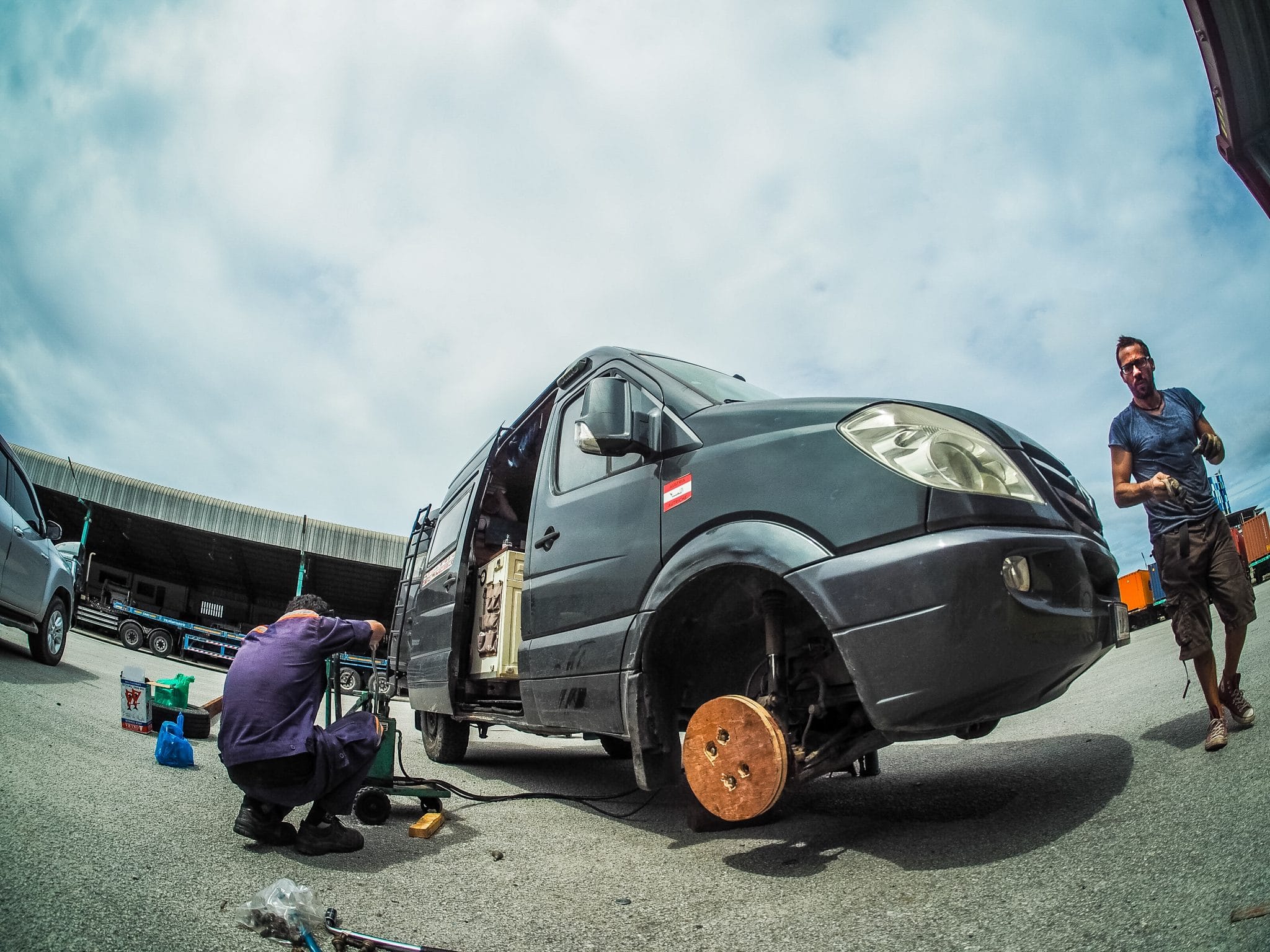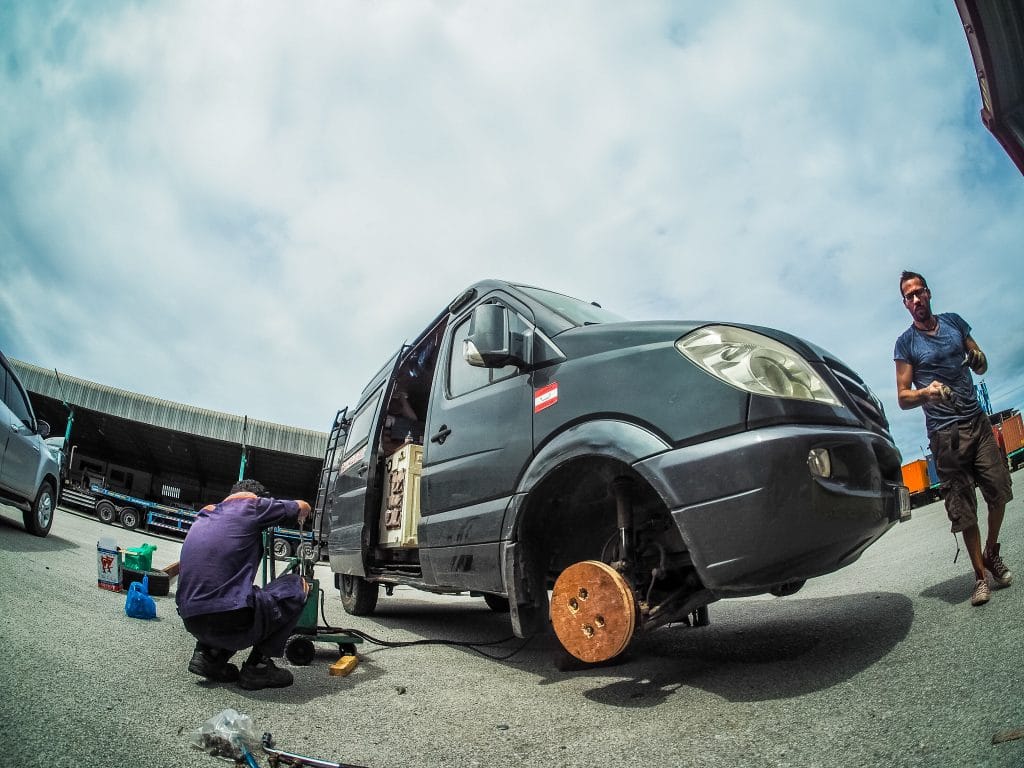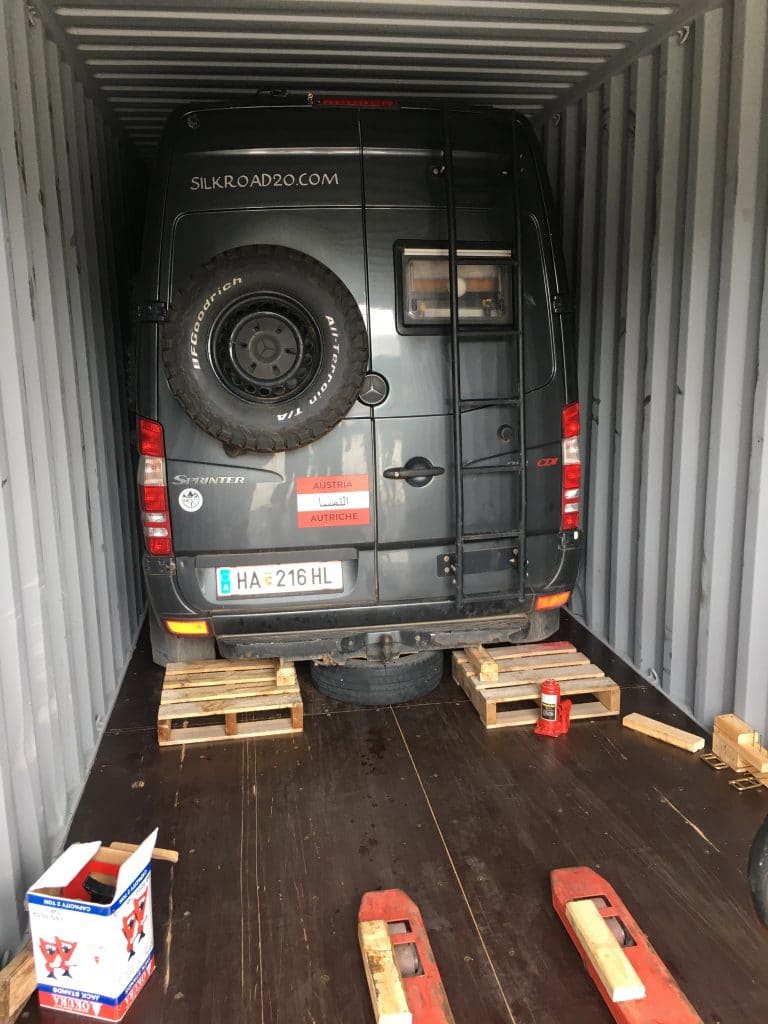 All the paperwork the custom clearance and loading was quite easy and straightforward, thanks to the professional work of Best Global Logistics

At the moment the container is on deck of the container vessel MSC Tina, and should arrive in Piraeus on the 18th of July, where we are already waiting and enjoying the Mediterranean climate and cuisine.