Entering Thailand was far more complicated than you would think. It seemed to be such an "accessible" country! We supposed only to insure our vehicles in advance to get TIP (Temporary Import Permit) at the border and enjoy the Thai beaches… Meanwhile, two days before our planned Myanmar crossing, we received very disturbing news. Two motorcyclists trying to cross the Burmese border were refused entry. This time a FVP (Foreign Vehicle Permit) was required. It's an expensive document, involving the obligation to travel with a guide and it's issued by the Department of Land Transport within a week from applying. This requirement existed on paper for a long time but it was not enforced. At this point, several borders of Thailand require the new permit, and the others issue the old one. Unfortunately, when entering Myanmar, we could not choose another border crossing…
We started nervously looking for different options and translating our documents… Even before we left India, we made a deal with an agent who offered us a good price. Unfortunately, a few days later, we found out that it was a scammer, obviously saying one thing and doing another. He was doing nothing for days, to force us to pay extra money later, under time pressure. Instead of enjoying Myanmar, we had to look for options again. Finding another agency wasn't easy, but we were lucky enough. A week before entering Thailand, we received an email confirming the application for FVP (also we were now sure that the previous agent never applied for it!) and we finally could relax a bit. Until the day of the border crossing, as there were still many uncertainties…
The Thai law officially does not allow campervans to enter at all and I was the only biker in the group. Besides, our plan was as follows: we organized a permit and a guide for one day to enter Thailand and leave for Laos after 2 very expensive hours ($300 per vehicle). Our only plan for Laos was to make a U-turn and enter Thailand with a free TIP – and without a guide.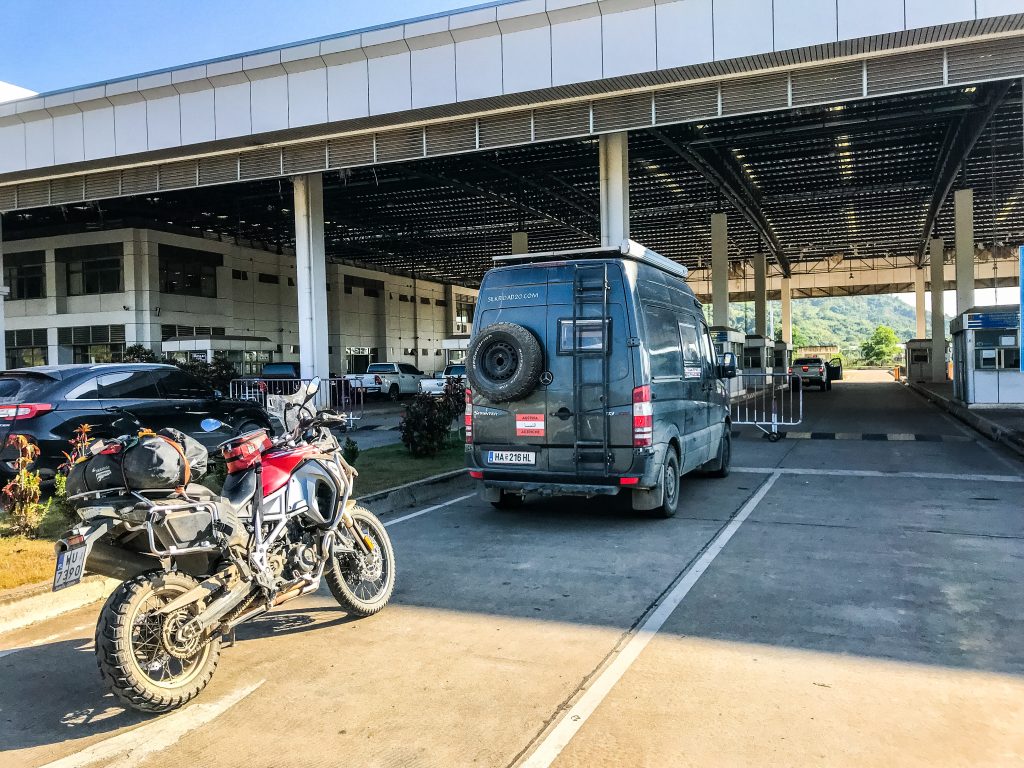 Luckily, on the Thai-Laos border, I heard "here no problem" from a customs officer. And he was right! At the end of the day, we were back in Thailand. Together Marco and Anja (@rockin.rosie.on.tour) we stopped on the bank of the Mekong River, opened a bottle and breathed a sigh of relief.
If you are planning to enter Thailand with your own vehicle, check out this post. How to enter Thailand with own vehicle
facebook.com/justajourneyblog